Our webstore uses cookies to offer a better user experience and we consider that you are accepting their use if you keep browsing the website.
Understood
For more details please visit: http://www.cookielaw.org/the-cookie-law/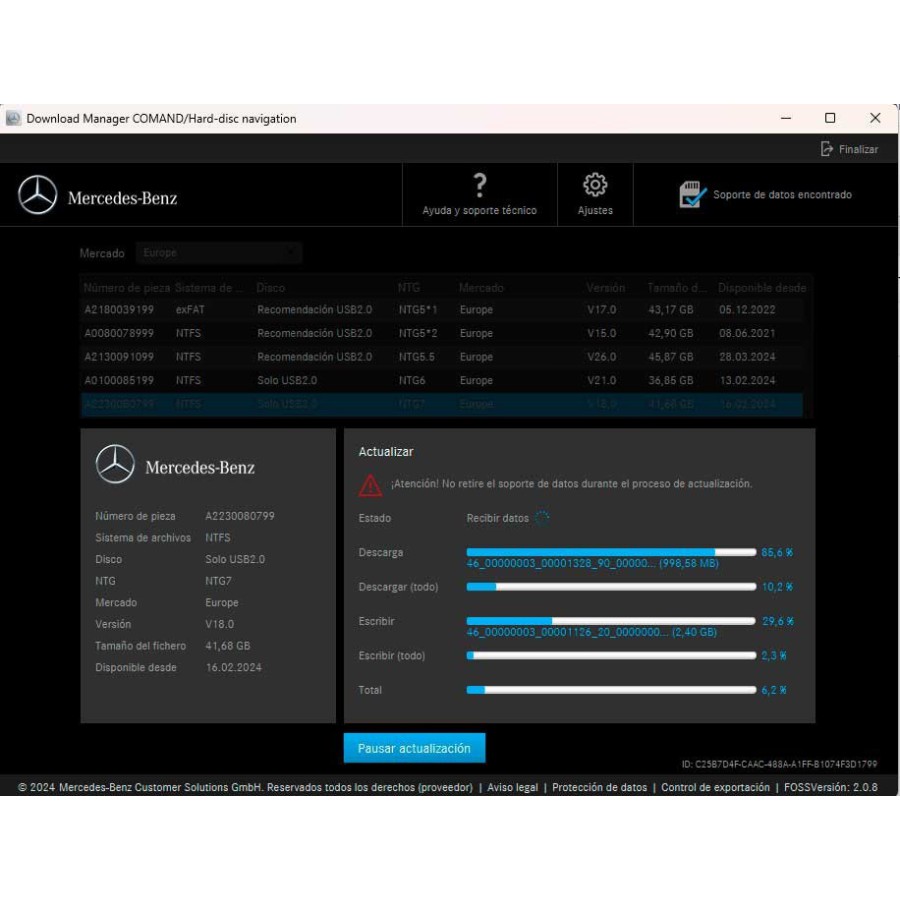  
Citroën RNEG MyWay Sd Card Europa 2018-2 Radares
Part Number: T1000-27331C
Ratings and comments from our customers
Compatibility:
Citroën C3                 12/2009 –
Citroën DS3                 12/2010-
Citroën C4                   01/2009 –
Citroën C5                   01/2009 –
Citroën C8                   01/2009 –
Citroën C4 Picasso       01/2009 –
Citroën Jumpy              01/2009 –
Citroën Berlingo           01/2009 –
Compatible with Citroën RNEG MyWay satellite navigation systems.
Cartography: Albania, Andorra, Austria, Belarus, Belgium, Bosnia Herzegovina, Bulgaria, Croatia, Czech Republic, Denmark, Estonia, Finland, France, Germany, Gibraltar, Great Britain, Greece, Hungary, Ireland, Italy, Latvia, Liechtenstein, Lithuania, Luxembourg , Macedonia (FYROM), Moldova, Monaco, Montenegro, Netherlands, Norway, Poland, Portugal, Romania, San Marino, Serbia, Slovak Republic, Slovenia, Spain, Sweden, Switzerland, Turkey, Ukraine, Vatican City.
Content: 1 SD card Europe + radars.
Ratings and comments from our customers
Hola Mi experiencia es altamente positiva. Cambié una tarjeta por otra y funcionó enseguida. La cartografia es del 2018. Me gustarìa saber c
Esta segunda actualización que me proporcionasteis, por que la primera no funcionaba, ha deja de funcionar tambien, que debo hacer
Es un error que ha dado en estos sistemas de navegación de Peugeot, Citroén, también en Renault,... https://www.citroen.es/posventa-y-accesorios/aplicaciones-y-cartografia/modificar-la-fecha-de-mi-gps.html MODIFICAR LA FECHA DE MI GPS CORREGIR LA DISFUNCIÓN «WEEK NUMBER ROLL OVER» El 6 de abril de 2019, la reinicialización del contador de los receptores satélites GPS utilizados para la gestión de los sistemas de navegación, llamando Week Number Roll Over, puede generar ligeras disfuncionalidades. El análisis realizado por nuestros expertos muestra que solo los sistemas My Way - Wip Nav equipados por los vehículos Citroën fabricados entre 2007 y 2015 puedes verse afectados. El impacto se limitaría a mostrar una fecha incorrecta: 2099 en lugar de 2019. El error se puede corregir de la siguiente manera: Actualizando manualmente la fecha del sistema de navegación (menú SET-UP / AJUSTE DE FECHA Y HORA) Desmarcando la sincronización automática de la hora GPS.