Our webstore uses cookies to offer a better user experience and we consider that you are accepting their use if you keep browsing the website.
Understood
For more details please visit: http://www.cookielaw.org/the-cookie-law/
 
NISSAN / INFINITI Connect Premium X9 Europe 2020
08IT-X9 Connect Premium Europa - V8
Part Number:  T1000-28017 / T1000-28017N
Product customisation
Don't forget to save your customization to be able to add to cart
Ratings and comments from our customers
COMPATIBILITY NISSAN
08IT-X9 Connect Premium Europa - V8
370Z 2010 - 2014

GT-R 2009 - 2014

MURANO 2009 - 2014

NAVARA 2009 - 2014

PATHFINDER 2010 - 2014

X-TRAIL 2010 - 2011

370Z 2009 NISSAN CONNECT PREMIUM

MURANO 2009 NISSAN CONNECT PREMIUM

NAVARA 2010 - 2011 X9 NISSAN CONNECT PREMIUM

PATHFINDER 2009 NISSAN CONNECT PREMIUM 3 (X9)

PATHFINDER 2011 X9 NISSAN CONNECT PREMIUM

X-TRAIL 2009 NISSAN CONNECT PREMIUM

X-TRAIL 2012 NISSAN CONNECT PREMIUM 3 (X9)

X-TRAIL 2014 NISSAN
COMPATIBILITY INFINITI
Infiniti 08IT-X9 Connect Europe - V8
INFINITI G SEDAN 2009 - 2013

INFINITI G Coupe 2009 - 2013

INFINITI G Convertible 2009 - 2013

INFINITI Q60 CABRIO (G CABRIO) 2009 - 2014

INFINITI Q60 COUPE (G COUPE) 2009 - 2014

INFINITI Q70 (M) 2010 - 2014

INFINITI QX50 (EX) 2009 - 2014

INFINITI QX70 (FX) 2009 - 2014

INFINITI QX60 2015 - 2019

INFINITI QX50 2013 - 2017

INFINITI QX70 2013 - 2017

INFINITI Q70 2013 - 2018

INFINITI M37 2010 - 2013
To purchase an activation code, you will need the Unit ID from your nav system. To find the Unit ID on your navigation system: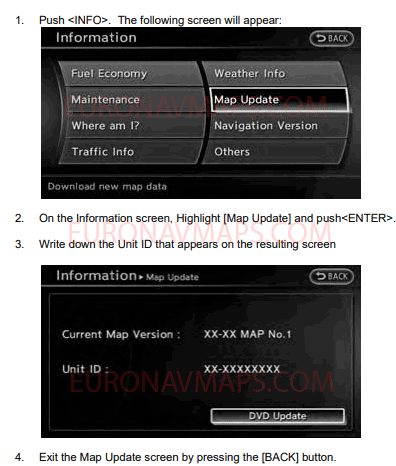 The update includes.
User Guide.

License Code Activation of maps.

DVD Firmware update.

Set 4 DVD´s Europe.

 
Mapping: Albania, Austria, Belarus, Belgium, Bosnia and Herzegovina, Bulgaria, Croatia, Czech Republic, Denmark, Estonia, Latvia, Lithuania, Finland, France (incl Andorra, Monaco), Germany, Greece, Hungary, Ireland, Italy (incl San Marino, Vatican city), Luxembourg, Macedonia (F.YR.O.M), Montenegro, Moldova, Netherlands, Norway, Poland, Portugal (incl Madeira), Romania, Serbia, Slovakia, Slovenia, Spain (incl Canary Islands, Gibraltar), Sweden, Switzerland, Turkey, Ukraine, United Kingdom.
Speed Camera Alerts covering 19 countries in Europe: Andorra, Austria, Belgium, Czech Republic, Denmark, Finland, Hungary, Ireland, Italy, Norway, Poland, Portugal, Romania, Slovakia, Slovenia, Spain, Sweden, Netherlands and United Kingdom.
PRODUCT INFORMATION
This newly updated map of Europe for your Nissan / Infiniti 08IT-X9 Connect Premium navigation system covers millions of square kilometers and many points of interest.
In this new Nissan map update the following has been added or amended:        
1.520.169 kilometers of roads, 274.549 one way streets, 448.883 turn restrictions, 3.222.320 street names. 
In addition to precise routes, these clear, rich maps feature many POIs: golf courses, theatres, hotels, car lots and much more making this latest edition of Nissan digital map the perfect guide to traveling through Europe.
This update also includes refreshed data for the following features: 
3D Models of Prominent Landmarks offers improved orientation using three-dimensional models with photorealistic facades of major tourist attractions, transportation centres, tower blocks, historic buildings and more. 
Advanced 3D City Models provides textured three-dimensional models of buildings, roads, parks and rivers for an area of a city. 
Basic Height provides important information about road elevations that can be used in generating eco-friendly routes. 
Enhanced Geometry improves positioning and turn guidance for navigation and enables important features for driver assistance applications.
Enhanced Height and Slope uses vertical road trajectory data to enhance driver assistance applications such as adaptive cruise control, curve warning systems, lane change assistance and more.
Once the PIN Code is generated, there is no return option for this item.